Gaming
Treat Yourself for Valentine's Day with These Deals
Show someone you love them buy getting them a bunch of great games, or show yourself some self-love by saving big.
Depending on who you are today is either Valentine's Day, a day to pay way too much money for flowers and cards, or Single's Awareness Day (SAD) where save some money and catch up on your backlog. Regardless what day it is for you, today is a great day to save a lot of money on some great games. There's a number of deals out right now but I'll be highlighting some of my favorites currently out there. These deals don't end on Valentine's Day so you'll have a day or so left to get some of these deals so no sweat if you catch the article a little late.
ℹ️
This article includes affiliate links.
Monster Prom Franchise Bundle
This is a franchise my friends and I always come back to when we need a good laugh at our parties. Sure Mario Kart or Smash gives you a jolt of excitement, but it's not everyone's speed and sometimes you might run out of speed for intense multiplayer. That's where this competitive dating sim comes in. Pursue the monster of your dreams while making wacky choices in bizarre situations. The franchise bundle contains Monster Prom 1 + Second Term DLC, Monster Prom 2: Monster Camp, and Monster Prom 3: Monster Roadtrip all for $17.78 right now on Steam until Feburary 21st. There's a lot of replayability for these native Linux games and reviews range from 93% positive to 99% positive. If the ratings aren't enough to sell you on the bundle, you can buy the individual games for cheap as well just to dip your toes into the monster dating sim genre.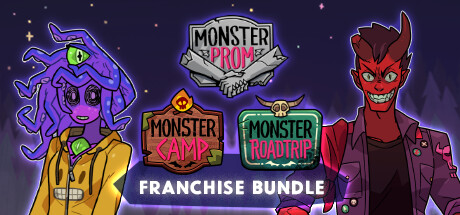 Fanatical Killer Bundle 25
If you want a little more variety then Fanatical has you covered with 25 games for $25. You've got your boomer shooters like Dusk, Doom 64, and Amid Evil, while you've got some classic CRPGs in the Baldur's Gate franchise, to the more unique with the 90's internet sim Hyperspace Outlaw. My standouts in this bundle are beat'em-up River City Girls, the previously mention Dusk and Amid Evil, and space survival Breathedge. There's a lot of games to go through ratings and compatibility but luckily friend of the channel Liam Dawe of GamingOnLinux has a full breakdown of Steam Deck compatiblity in his article. Long and short of it, Fanatical boasts 22 of the games are compatible with the Steam Deck. Some of the games might not be your speed but for a dollar a game, it's a hard deal to pass up. The store page doesn't seem to list when the sale ends, but rather states, "while stock lasts," so you might want to grab this sooner rather than later if you're at all interested.
Humble Bundle Survival Instinct Bundle
Do you enjoy keeping to yourself on Valentine's Day? Be truly alone in this survival bundle where you only have yourself to rely on in harsh conditions. This bundle has been going on for a while but for $15 it's a pretty good deal for what you get in the bundle. The star of the show for me is Chernobylite: Enhanced Edition which its historic low has been about $15. So you get a S.T.A.L.K.E.R. like game at basically its lowest price along with 6 other games. The other games are nothing to scoff at either as they feature The Long Dark: Survival Edition (standalone survival mode, story mode is DLC), State of Decay 2: Juggernaut Edition, and Volcanoids. Steam Deck compatiblity is pretty strong in this bundle, with only SCUM not being playable on Deck or Linux due to Easy Anti-Cheat. I personally picked up this bundle for Chernobylite as I'm a huge Fallout fan and if you're interested you've got 3 more days to snag the bundle. A portion of your purchase goes to the One Tree Planted charity and you can adjust your contribution to give more to said charity, more to the publishers, or more to Humble. Just scroll below the blue Checkout button and click on the "Adjust Donation" button.
So did you fall in love with any of these bundles? Going to get a bundle for a special someone in your life? Have I sold you on Monster Prom yet? Let us know down in the comments below!